Are you ready for Round #2 of outfits? I search the internet, although I know pinterest has some great options and put together some combos that are flattering for you and the camera. You want to make yourself as slender looking as possible. How do you do that – you might ask? (yes I like to imagine I am telling you this face-to- face) Layer it up! Wear a long necklace which can make you look skinnier. Break up your outfit with a light jacket and one or even two shirts underneath.  You can even do a cute scarf. Don't let it be too chunky of a scarf if you have a round face because this can make your face look fuller.
My clients are welcome to send me outfit ideas via email or text. Or call me up so they can come over here with their outfit options. I will always tell you what looks good. Others bring 2 or 3 shirt options or accessories to the shoot for me to help out with the decision. On occasion I have had my clients wear my rings or necklace to complete an outfit. I always make sure wear a fun piece of jewelry when shooting for that very reason!
I wanted to show some options for the mom who has more curves.  These are mom friendly outfits that I think look fabulous and really help make you look more slender without taking away those gorgeous curves!  (below are all from Lane Bryant)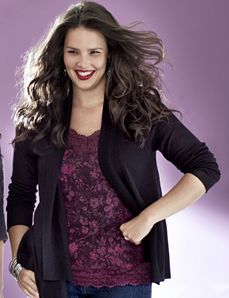 I love the use of the belt on this one below. Can you image the fun outfits you could do around this? (And NO not everyone in jean shirts) You could do Dad in a combo of the grey and burgundy. The kids could wear the light blue, camel color, grey and brown. You could have so much fun with that sweater!!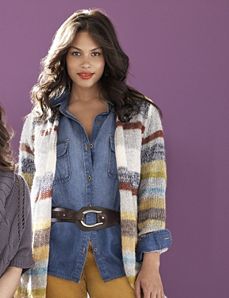 This next combo is for a more formal setup for family pictures. If you like to dress this way as a family then get portraits like this….
I personally am more of a casual dresser and so is my family. I prefer portraits that reflect our playful side, so for portraits we want something we can really play in and have fun in. Here are some fun options that are not matchy matchy (you don't have to be so matchy!!)…